13. Becherovka Ska Night
The Becherovka Ska Night ventures into much newer realms beyond puritanical offbeat ska, and one can look forward to the up-and-coming La Banda De Contenedor from Teplice, which are musically almost 'unbelievable': wild, noisy and unpredictable. Furthermore you can experience Marmitako with Rumba Flamenca, Ragga, Balkan and Reggae, Band-a-SKA from Ústí nad Orlicí and a local support. The aftershow will be performed by Ska Nighter.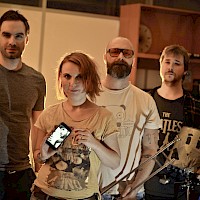 The Pragomania Festival is part of the Tschechisch-Deutschen Kulturtage. Mainly in Dresden's Neustadt, a large number of concerts and parties take place, which the Neustadter Verein Kultur Aktiv affectionately and in cooperation with Neustadter Clubs puts on the legs.
21:00 - 23:59
Veranstaltungsort
Chemiefabrik
Petrikirchstraße 5
Dresden
Kontakt & Information
tobias.kaeppler@kulturaktiv.org
Admittance: 20 Uhr
Inception: 21 Uhr
Entry: 10 Euro VVK | 12 Euro AK
Occurring Bands:
ESKALATION
Band-A-SKA
Marmitako
La Banda de Contenedor