"Redl" Krimi und böhmischer Filmbrunch
Tschechoslowakei 1992: The Soviet occupying army retreats on the rails to Eastern Europe. Wagons leaving the country are packed with weapons, spare parts and valuable things. Some of the Soviet wagons disappear inexplicably. A few days later a dead man is found. Roman Rédl and his team investigate.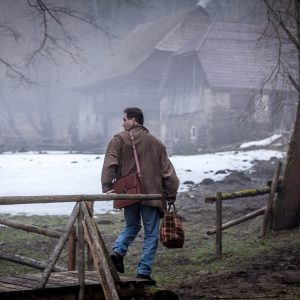 ČR 2018, 275 min., OmdtU
On the occasion "30 Jahre Samtene Revolution"
Regie: Jan Hřebejk
Actors: Ondřej Sokol, David Novotný, Martin Hofmann, Roman Polák, Petra Hřebíčková
In connection with a brunch, you can watch all four parts of this TV series in the cinema in the factory and enjoy Bohemian specialities during the break. Please book in advance.
Author rights: Michaela Buchtova
The Pragomania Festival is part of the Tschechich-Deutsche Kulturtage. Mainly in Dresden's Neustadt, a large number of concerts and parties take place, which the Neustadter Verein Kultur Aktiv affectionately and in cooperation with Neustadter Clubs puts on the legs.

Festivalprogramm Tschechisch-Deutschen Kulturtage
11:00 - 17:00
Veranstaltungsort
Kino in der Fabrik
Tharandter Str. 33
Dresden
Kontakt & Information
tobias.kaeppler@kulturaktiv.org
Admission: 20 Euro complete price