Festival | Saturday, 9. November 2019
Zvíře jménem Podzim
Jakub König and his Supergroup
One of the most interesting personalities of the current Czech cultural scene comes with his band and their opulent multimedia performance in the barrel: Jakub König – artist, blogger, comic artist and highly talented songwriter – founded in 2017 the 16-strong band "Zvíře jménem Podzim" (An Animal called Autumn), thus creating THE supergroup of the Czech music scene. Tomáš Neuwerth from the Kafka Band, Aid Kid, Marie Kieslowski, Veru Linhartová and Ondřej Mataj, Terezie Kovalová and many others are part of the large formation. They come to Dresden with a complete cast, video artists and Jakub König's large-format pictures and posters.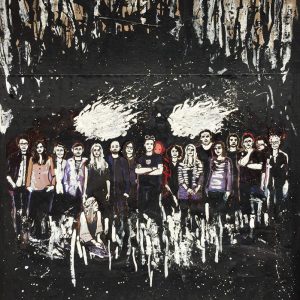 Reservation: http://www.tdkt.info/veranstaltungen/jazz-nn/
Note: The reservation form in this case only applies to guests from the Czech Republic and refers to the shuttle service from Ústí nad Labem to Dresden and back.
The Pragomania Festival is part of the Tschechich-Deutsche Kulturtage. Mainly in Dresden's Neustadt, a large number of concerts and parties take place, which the Neustadter Verein Kultur Aktiv affectionately and in cooperation with Neustadter Clubs puts on the legs.
20:00 - 23:59
Veranstaltungsort
Die Tonne
Tzschirnerplatz 3-5
Dresden
Kontakt & Information
tobias.kaeppler@kulturaktiv.org
Admission: 15 (reduced 10) Euro