Die Galerie nEUROPA ist aus der bisherigen Galerie neue osten hervorgegangen. In den angestammten Räumen des Vereins Kultur Aktiv e.V. in Dresden, Bautzner Straße 49 präsentiert das Galerieteam Holger Wendland und Simon Wolf verstärkt Einzelpositionen internationaler Künstler- und Photographenpersönlichkeiten. Dabei werden neue Wege betreten, ohne tradierte neue osten-Positionen aufzugeben. Bisher standen Gruppen-Ausstellungen mit osteuropäischer Ausrichtung im Mittelpunkt. Jetzt steht eine Erweiterung auch in andere Himmelsrichtungen unserer Welt im kuratorischen Blickwinkel.
Wir laden alle Interessenten ein, uns auf dieser spannenden Reise zu begleiten.
Als Schaufenster der Vereinsaktivitäten zeigt die Galerie dem Dresdner Publikum Positionen zeitgenössischer Fotografen mit Ost- und Südosteuropabezug. Entweder entstammen die Künstler den Ländern oder sie waren dort künstlerisch aktiv. Ein Teil der Ausstellenden zeigt seine Werke erstmalig in Deutschland. Die Galerie ist mit dieser speziellen Ausrichtung allein in Dresden und hat sich dadurch einen guten Ruf erarbeitet.
Zu den meisten Ausstellungen erscheint eine kurze Printpublikation – das MAGnEUROPA.
Öffnungszeiten
Mo-Fr, 10-16 Uhr
sowie nach Vereinbarung
Adresse
Bautzner Straße 49
01099 Dresden
Projektbeteiligte
Holger Wendland (Galeriebeirat)
Simon Wolf (Galeriebeirat)
Kontakt
galerie@kulturaktiv.org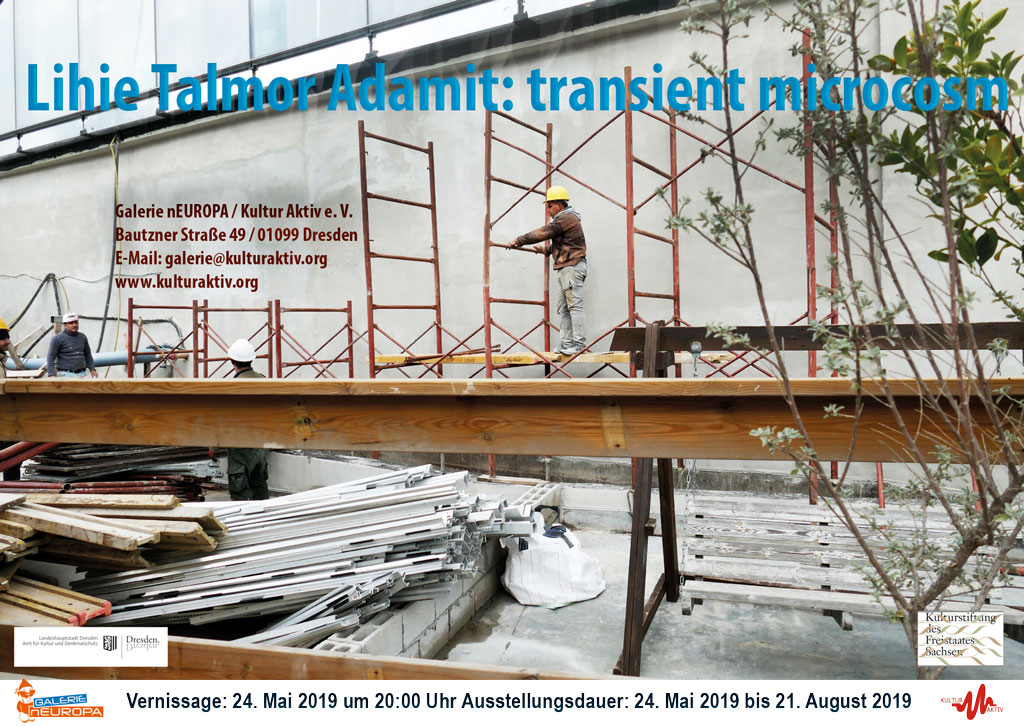 24 May 2019 - 21 Aug 2019
Opening
24. May 2019 | 20:00 o'clock
Admission free!
Lihie Talmor Adamit shows photographs taken during the construction process of the newly built Museum of Tolerance in the politically divided city of Jerusalem. As so often in Israel, workers of different ethnicities, nationalities and religions, such as Palestinians, Jews and Chinese, are also employed on this construction site. The Museum of Tolerance (MOT) is a training and education institute of the Simon Wiesenthal Center.
Lihie Talmor was born in 1944 in Tel Aviv, Israel. She graduated from the Technion, Haifa, Israel, with a B.Sc. in Architecture and Urban Planning in 1969 and completed her B.A. in Poetics and Comparative Literature at Tel Aviv University in 1971, where she taught until 1974. At the same time, she studied painting in the studio of the Israeli painter Pinchas Abramovitch. In 1980 she moved with her family to Venezuela, studied at the Center of Studies for the Graphic Arts (CEGRA) in Caracas and painted in Walter Margulis' studio. Since 1984 she has been working on art projects, teaching and participating in workshops and residencies in Italy, Belgium, the United States, Israel, Colombia and Venezuela. Her work focuses on printmaking, sculpture and photography. She lives and works in Israel and Venezuela.
Lihie Talmor Adamit has won numerous awards and prizes including 2017: First Prize, 5th Annual International Juried Print Exhibition, Albuquerque, New Mexico, USA. Her works are part of numerous important public collections in the USA, Spain, Israel, Venezuela, Japan and many other countries.
Lihie Talmor Adamit has worked in the past with nEUROPA Gallery and its curator Holger Wendland in international exhibition projects.
The exhibition is the first part of the VERTOVISm-WORLDWIDEWORKnoise project sponsored by the Kulturstiftung des Freistaates Sachsen, the city of Dresden and in cooperation with Morphonic Lab 2019.
Sie sind ein Verein im ländlichen Raum? Sie planen eine Veranstaltungsreihe zum Kaukasus oder Balkan und suchen noch einen optischen Aspekt? Kultur Aktiv hat seit 2011 vielfältigste Ausstellungen organisiert. Ein Großteil der vergangenen Ausstellungen befinden sich im Archiv. Auf dieser Webseite ist nur ein kleiner Teil unseres Archivs sichtbar. Insgesamt haben wir knapp 40 Ausstellungen im Portfolio.
Kommen Sie gerne auf uns zu falls Sie die eine oder andere Ausstellung gerne in Ihren Räumlichkeiten zeigen wollen. Wir verleihen unsere Ausstellungen gerne.
Das Projekt wird durch die Förderrichtlinie "Wir für Sachsen" der Bürgerstiftung Sachsen gefördert.